Ordinary Time: September 12th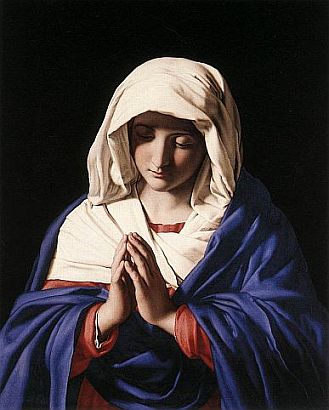 In accordance with Jewish custom, our Lady's parents named her eight days after her birth, and were inspired to call her Mary. The feast of the Holy Name of Mary therefore follows that of her Birthday, as the Feast of the Holy Name of Jesus follows Christmas. The feast originated in Spain and was approved by the Holy See in 1513; Innocent XI extended its observance to the whole Church in 1683 in thanksgiving to our Lady for the victory on September 12, 1683, by John Sobieski, king of Poland, over the Turks, who were besieging Vienna and threatening the West.
From the time of St. Jerome until the 16th century, preferred interpretations of Mary's name in the West were "Lady," "Bitter Sea," "The Light Giver," and especially "Star of the Sea." Stella Maris was by far the favored interpretation. The Hebrew name of Mary, Miryãm, (in Latin Domina) means lady or sovereign; this Mary is in virtue of her Son's sovereign authority as Lord of the World. We call Mary our Lady as we call Jesus our Lord, and when we pronounce her name we affirm her power, implore her aid, and place ourselves under her protection.
Source