Ordinary Time: August 16th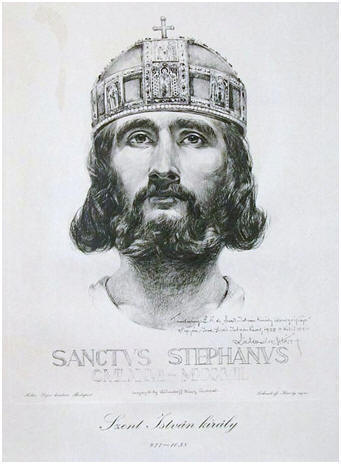 St. Stephen was the first Christian king of Hungary. He was born in 975 at Gran, the son of Prince Geisa and was baptized in 985 by St. Adalbert. While courting Gisela, the sister of Emperor St. Henry II, he was promised her hand in marriage provided that he remain firm in the Christian faith and lead the pagan Hungarians to Christianity. He kept his word, though it cost him dearly. From the hands of Pope Sylvester II (999-1003) he received the royal crown and was solemnly enthroned at Gran on the feast of Mary's Assumption, 1001.
Stephen was one of the wisest princes of his time. His royal generosity is shown in the establishment of the archbishopric of Gran and ten Hungarian bishoprics and in his love toward the poor. Because he visited them in their houses and washed their feet, his right hand has remained incorrupt. Great was his zeal in prayer and meditation. From his marriage came a saintly son, the devout Emeric, an angel of purity, who died seven years before his father. By prayer and fasting, Stephen sought the conversion of all Hungary; rightfully is he called the apostle of his nation. He chose the Mother of God as the patroness of Hungary.
Source