Ordinary Time: July 12th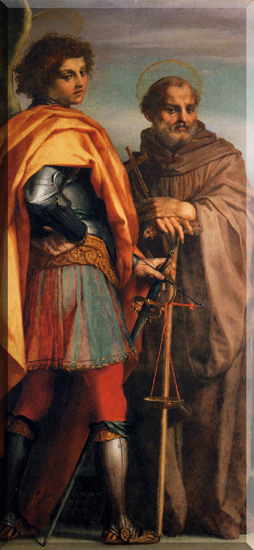 Our saint was born of a noble Florentine family about the year 995. His father was arranging for him to become a soldier when Hugo, the only other child, was murdered by a relative. It was Good Friday, and Gualbert, accompanied by an armed escort, met the murderer in a narrow pass. There was no way to avoid one another. They met, and the murderer, with arms crossed on his breast, threw himself at Gualbert's feet. Moved by his plea for mercy and the remembrance of Christ's dying act of forgiveness, he spared the murderer's life and lifted him up as a brother.
Gualbert continued his journey. Arriving at the Church of St. Minias, he prayed before a picture of the Crucified, which appeared to move its head toward him. Thereupon he determined to dedicate his life to God in spite of his father's opposition. He cut off his hair, took the habit of a monk, and in a short time attained such perfection that his life and work were a model for others. He became the founder of the Vallombrosian monks, a branch of the Benedictine family. At this period simony and clerical immorality were rife in Italy. By his firmness and preaching, St. John Gualbert successfully opposed these grave disorders. He died in 1073, having paved the way for the Gregorian reform.
Source