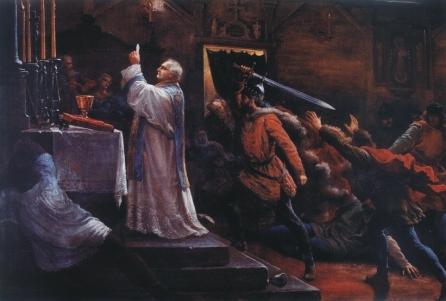 The Polish bishop and martyr St. Stanislaus was born near Krakow in Poland. After initial studies in Poland, he completed his education in Paris, where he spent seven years studying canon law and theology; this entitled him to a doctorate, but he refused it out of humility, and returned home. When his parents died, Stanislaus gave away his inheritance and was ordained a priest.
Stanislaus was appointed as preacher and archdeacon to the bishop of Krakow; his great eloquence and piety generated a spirit of renewal and conversion in the local community. When the bishop died in 1072, Stanislaus was unanimously elected as his successor; because of the importance of this position, he soon found himself involved in the political affairs of the Polish kingdom.
Bishop Stanislaus was outspoken in his attacks upon political and social injustice, particularly that of the bellicose and immoral King Boleslaus II, who warred with his neighbors and oppressed the peasantry. The king at first made a show of repenting, but soon returned to his evil ways. Stanislaus continued to denounce him, accusations of treason and threats of death notwithstanding.
In 1079, the bishop excommunicated Boleslaus. The enraged king ordered his soldiers to murder Stanislaus; when they refused, he killed the bishop with his own hands while Mass was being celebrated. Because of Stanislaus' popularity, King Boleslaus was forced to flee to Hungary, where he's said to have spent the rest of his life doing penance in a Benedictine monastery. St. Stanislaus is considered the patron of Poland.
Source:
link