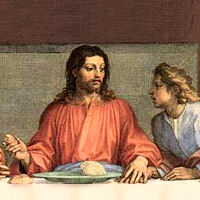 "If you ask the Father anything in My Name, He will give it to you. . .Ask, and you shall receive, that your joy may be full" (Gospel).
Petition Sunday, followed by Rogation Days! We petition the Father's blessing upon springtime planting in the fields; yes, and in our souls. We ask in the "Name" of Jesus. He intercedes for us with the Father.
We must ask only for what keeps us on the Christian road. "I go to the Father," is the signpost on this road to which Jesus points. The Epistle warns us of a dangerous detour, if we ignore this road guide. Religion is vain unless one be a "doer" and not a "hearer" only. "Religion pure and undefiled" in our interior life, means keeping "oneself unspotted;" in our social life, it means the spiritual and corporal works of mercy to all "in their tribulation."
Excerpted from My Sunday Missal, Confraternity of the Precious Blood
Source