"I shall sing forever the Lord's mercy." (Ps 89 [88]) This Sunday is popularly known as Mercy of God Sunday. Between 1930 and 1938 Christ appeared to Sister Faustina, a Sister of Mercy in Poland who initiated the Divine Mercy devotion. She was canonized on April 30, 2000, the Sunday after Easter, the Feast of Divine Mercy. On Good Friday, 1937, Jesus requested that Blessed Faustina make a special novena before the Feast of Mercy, from Good Friday through the following Saturday. Jesus also asked that a picture be painted according to the vision of Himself as the fountain of mercy. He gave her a chaplet to be recited and said that it was appropriate to pray the chaplet at three o'clock each afternoon (the Hour of Great Mercy).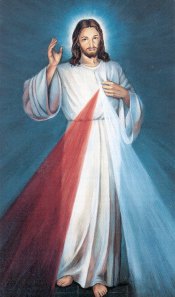 Jesus appeared to Blessed Faustina with rays of red and pale light streaming from the area around His heart. His right hand was raised in blessing, recalling the scene of Easter Sunday night (see Jn 20: 19-23).
He asked Blessed Faustina to have this vision painted signed with the words, Jesus, I trust in You!
I am offering people a vessel with which they are to keep coming for graces to the fountain of mercy. That vessel is this image with the signature: "Jesus, I trust in you. (Diary, 327).
Jesus explained that the rays represented the blood and water which flowed from His pierced side, and He taught Blessed Faustina the prayer:
O Blood and Water, which gushed forth from the Heart of Jesus as a fount of mercy for us, I trust in You (Diary, 84).
Jesus told Blessed Faustina that this image was to be venerated first in the Sisters' chapel, and then throughout the world (Diary, 47).
link