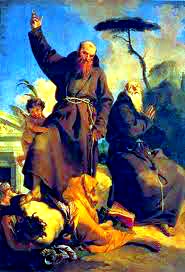 Joseph avoided the safe compromises by which people sometimes undercut the gospel. Born at Leonissa in the Kingdom of Naples, Joseph joined the Capuchins in his hometown in 1573. Denying himself hearty meals and comfortable quarters, he prepared for ordination and a life of preaching.
In 1587 he went to Constantinople to take care of the Christian galley slaves working under Turkish masters. Imprisoned for this work, he was warned not to resume it on his release. He did and was again imprisoned and then condemned to death. Miraculously freed, he returned to Italy where he preached to the poor and reconciled feuding families as well as warring cities which had been at odds for years. He was canonized in 1746.
Quote:
In one of his sermons, Joseph says: "Every Christian must be a living book wherein one can read the teaching of the gospel. This is what St. Paul says to the Corinthians, 'Clearly you are a letter of Christ which I have delivered, a letter written not with ink, but by the Spirit of the living God, not on tablets of stone but on tablets of flesh in the heart' (2 Corinthians 3:3). Our heart is the parchment; through my ministry the Holy Spirit is the writer because 'my tongue is like the pen of a ready scribe' (Psalm 45:1)."
http://www.americancatholic.org/Features/SaintofDay/default.aspx