Feast Day: September 12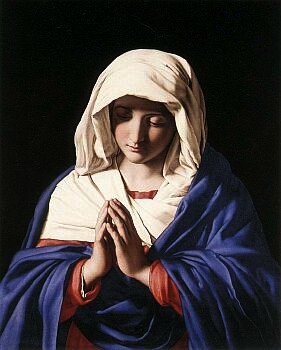 In accordance with Jewish custom, our Lady's parents named her eight days after her birth, and were inspired to call her Mary. The feast of the Holy Name of Mary therefore follows that of her Birthday, as the Feast of the Holy Name of Jesus follows Christmas. The feast originated in Spain and was approved by the Holy See in 1513; Innocent XI extended its observance to the whole Church in 1683 in thanksgiving to our Lady for the victory on September 12, 1683 by John Sobieski, king of Poland, over the Turks, who were besieging Vienna and threatening the West. This day was commemorated in Vienna by creating a new kind of pastry and shaping it in the form of the Turkish half-moon. It was eaten along with coffee which was part of the booty from the Turks.
On this day dedicated to the Holy Name of Mary let us repeat that wonderful prayer of Saint Bernard, responding to Pope Benedict XVI 's invitation to "invite everyone to become a trusting child before Mary, even as the Son of God did. Saint Bernard says, and we say with him: 'Look to the star of the sea, call upon Mary … in danger, in distress, in doubt, think of Mary, call upon Mary. May her name never be far from your lips, or far from your heart … If you follow her, you will not stray; if you pray to her, you will not despair; if you turn your thoughts to her, you will not err. If she holds you, you will not fall; if she protects you, you need not fear; if she is your guide, you will not tire; if she is gracious to you, you will surely reach your destination"' (Benedict XVI, address at Heiligenkreuz Abbey, September 9, 2007).
— Luciano Alimandi