Dedication of the Church of Our Lady of the Snow (St. Mary Major)
Ordinary Time: August 5th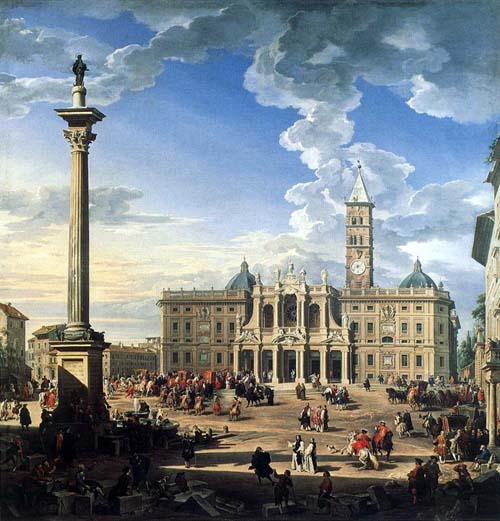 We celebrate today the dedication of one of the four most illustrious churches of Rome. While each diocese and parish keeps its own dedication anniversary, the Church universal commemorates the consecration of the four great Roman basilicas, the mother churches, we may call them, of Christendom, viz., St. John Lateran, St. Peter, St. Paul Outside the Walls, and St. Mary Major. By means of these feasts, the Church seeks to link all Christians with the Holy See.
This feast commemorates the miracle of the snowfall that occurred during the night of August 4-5 in the year 358 on the site where the basilica now stands. According to tradition, the Virgin Mary appeared in a dream to two faithful Roman Christians, the patrician John and his wife, as well as to Pope Liberius (352-366), asking that a church be built in her honor on the site where snow would fall on the night of August 4-5. Pope Liberius traced the outlines of the church in the snow and the first basilica was built on that site. It was completed about a century later by Pope Sixtus III (432-440), after the Council of Ephesus in 431 during which Mary was declared to be the Mother of God.
In Rome the Basilica of St. Mary Major will hold its traditional triduum from August 1 to 3 and two days of celebration on August 4 and 5. During the pontifical Mass and the second vespers, the traditional shower of flower petals will descend from the ceiling of the basilica to commemorate the August snowfall in 358.
Dedication of St. Mary Major
St. Mary Major is important to Christendom for three reasons:
(a) It stands as a venerable monument to the Council of Ephesus (431), at which the dogma of Mary's divine Motherhood was solemnly defined; the definition of the Council occasioned a most notable increase in the veneration paid to Mary.
(b) The basilica is Rome's "church of the crib," a kind of Bethlehem within the Eternal City; it also is a celebrated station church, serving, for instance, as the center for Rome's liturgy for the first Mass on Christmas. In some measure, every picture of Mary with the divine Child is traceable to this church.
(c) St. Mary Major is Christendom's first Marian shrine for pilgrims. It set the precedent for the countless shrines, where pilgrims gather to honor our Blessed Mother throughout the world. Here was introduced an authentic expression of popular piety that has been the source of untold blessings and graces for Christianity in the past as in the present.
Source:
http://www.catholicculture.org/culture/liturgicalyear/calendar/day.cfm?date=2013-08-05