Lent: March 13th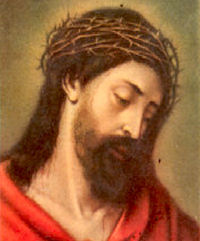 Daily Readings for: March 13, 2013
(Readings on USCCB website:
http://new.usccb.org/bible/readings/031313.cfm
)
Collect:
O God, who reward the merits of the just and offer pardon to sinners who do penance, have mercy, we pray, on those who call upon you, that the admission of our guilt may serve to obtain your pardon for our sins. Through our Lord Jesus Christ, your Son, who lives and reigns with you in the unity of the Holy Spirit, one God, for ever and e
ver.
On the Cross, Christ is both priest and victim; he fulfills Isaiah's description of him as the suffering servant. And the whole of his teaching is to make us ready to live our sacramental life in his spirit of sacrifice. He impressed on us that we must match the outward sign of his sacraments in our lives. When we became other Christs in Baptism, we became sharers in the priesthood of the Lord. We gained the ability and the responsibility of combining our inward obedience with every outward act of sacrifice that we make as priests and victims. In every Mass, then, we agree to offer our obedience to atone for, to correct the disobedience of sin. On his part, Christ agrees to renew his sacrifice of atonement and obedience, in which we join; and to nourish us on the victim, his flesh and blood, the covenant food.
St. Andrew Bible Mission
Confidence and Union with God in Temptation
Nothing is more efficacious against temptation than the remembrance of the Cross of Jesus. What did Christ come to do here below if not to "destroy the works of the devil"? And how has He destroyed them, how has He "cast out" the devil, as He Himself says, if not by His death upon the Cross?
Let us then lean by faith upon the cross of Christ Jesus, as our baptism gives us the right to do. The virtue of the cross is not exhausted. In baptism, we were marked with the seal of the cross, we became members of Christ, enlightened by His light, and partakers of His life and of the salvation He brings to us. Hence, united to Him, whom shall we fear?
Dominus illuminatio mea et salus mea; quern timebo?
Let us say to ourselves: "He hath given His angels charge over thee to keep thee in all thy ways."
"Because he hoped in Me (says the Lord) I will deliver him; I am with him in tribulation, I will deliver him, and I will glorify him. I will fill him with length of days, and I will show him My salvation."
Excerpted from
Christ the Life of the Soul
, Dom Marmion.
http://www.catholicculture.org/culture/liturgicalyear/calendar/day.cfm?date=2013-03-13