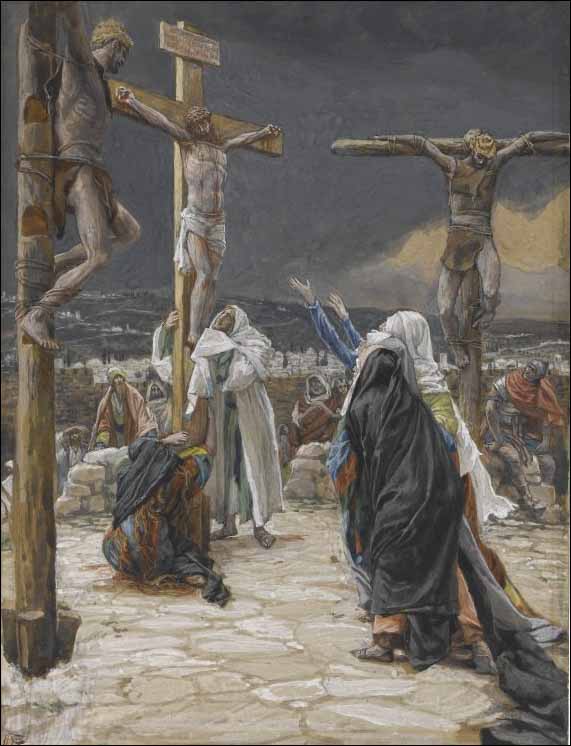 painted by James Tissot
For Good Friday, here is all the links to the prayers of the Stations of the Cross, the reflections being from Mother Angelica.
1.
Opening Prayer
2.
The First Station: Jesus Is Condemned to Death
3.
The Second Station: Jesus Carries His Cross
4.
The Third Station: Jesus Falls the First Time
5.
The Fourth Station: Jesus Meets His Afflicted Mother
6.
The Fifth Station: Simon Helps Jesus Carry His Cross
7.
The Sixth Station: Veronica Wipes the Face of Jesus
8.
The Seventh Station: Jesus Falls a Second Time
9.
The Eighth Station: Jesus Speaks to the Holy Women
10.
The Ninth Station: Jesus Falls the Third Time
11.
The Tenth Station: Jesus Is Stripped of His Garments
12.
The Eleventh Station: Jesus Is Nailed to the Cross
13.
The Twelfth Station: Jesus Dies on the Cross
14.
The Thirteenth Station: Jesus Is Taken Down from the Cross
15.
The Fourteenth Station: Jesus Is Laid in the Sepulcher
16.
Closing Prayer
Note:
I've noticed that in some versions of the Stations of the Cross that I have seen, each Station begins with the prayer:
We adore you, O Christ, and we bless you.
Because by your holy cross you have redeemed the world.
I also came across this four-page handout of
the Stations of the Cross with Mary
from
Creighton University
that looks nice. Here also is an
online Stations of the Cross for children
.
painted by Peter Paul Rubens