(1302-1373)

Ordinary Time: February 4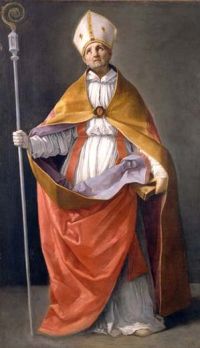 St. Andrew was born in the fourteenth century in Florence, Italy. He fell into bad company; but soon, touched by the grief of his mother, the young nobleman entered the Carmelite Order. Having served as prior of his convent, he was chosen to fill the vacant bishopric of Fiesole. He continually helped the poor, doing so in secret in the case of those, who were ashamed to make known their distress. By showing his people the true nature of Christian peace, Bishop Andrew put an end to a number of troublesome disturbances in the city. He died on the feast of the Epiphany, 1373.
---
St. Andrew Corsini


St. Andrew Corsini lived from 1302 to 1373. While still carrying him in her womb, his mother dreamed she had given birth to a wolf that sauntered to the gate of the Carmelite monastery, and entering the vestibule of the church, was changed to a lamb. Andrew was reared as a pious and God-fearing youth, but little by little he succumbed to the pleasures of the world in spite of frequent warnings and reproofs from his mother. After he became aware that his parents had vowed him to the service of Blessed Mary, he mended his ways, and at the age of seventeen entered the Carmelite Order. Though persistently tempted and assailed by the devil, he never swerved from his holy decision. A man of austere penance, he fasted continuously, always wore a hair shirt, and prayed the penitential psalms daily. For humility's sake, he often washed the feet of the poor and beggars. His special gift from God was the grace to effect the conversion of hardened sinners. In 1360, despite his efforts to the contrary, he was made bishop of Fiesole in Tuscany.
­ Excerpted from
The Church's Year of Grace
, Pius Parsch
http://www.catholicculture.org/culture/liturgicalyear/calendar/day.cfm?date=2013-02-04