Advent: December 17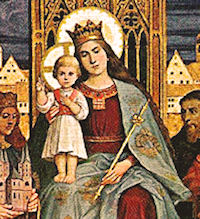 December 17 marks the beginning of the O Antiphons, the seven jewels of our liturgy, dating back to the fourth century, one for each day until Christmas Eve. These antiphons address Christ with seven magnificent Messianic titles, based on the Old Testament prophecies and types of Christ. The Church recalls the variety of the ills of man before the coming of the Redeemer.
O Antiphons ~ Wisdom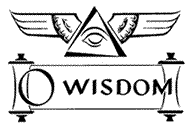 O Wisdom
Divine Wisdom clothes itself in the nature of a man. It conceals itself in the weakness of a child. It chooses for itself infancy, poverty, obedience, subjection, obscurity. "I will destroy the wisdom of the wise and the prudence of the prudent I will reject. . . . Hath not God made foolish the wisdom of this world? For seeing that in the wisdom of God the world by wisdom knew not God, it pleased God, by the foolishness of our preaching, to save them that believe. For both the Jews require signs, and the Greeks seek after wisdom; but we preach Christ crucified, unto the Jews, indeed, a stumbling block, and unto the Gentiles foolishness; but unto them that are called, both Jews and Greeks, Christ, the power of God and the wisdom of God. . . . But the foolish things of the world hath God chosen, that He may confound the wise; and the weak things of the world hath God chosen, that He may confound the strong. And the base things of the world and the things that are contemptible, hath God chosen, and the things that are not, that He might bring to naught the things that are" (I Cor. 1:19 ff.).
*Come, O divine Wisdom, teach us the way of knowledge. We are unwise; we judge and speak according to the vain standards of the world, which is foolishness in the eyes of God.
*Come, O divine Wisdom, give us the true knowledge and the taste for what is eternal and divine. Inspire us with a thirst for God's holy will, help us seek God's guidance and direction, enlighten us in the teachings of the holy gospel, make us submissive to Thy holy Church. Strengthen us in the forgetfulness of self, and help us to resign ourselves to a position of obscurity if that be Thy holy will. Detach our hearts from resurgent pride. Give us wisdom that we may understand that "but one thing is necessary" (Luke 10:42). "For what doth it profit a man if he gain the whole world and suffer the loss of his own soul?" (Matt. 16:26.) The Holy Spirit would have us know that one degree of grace is worth more than all worldly possessions.
Excerpted from
The Light of the World
by Benedict Baur, O.S.B
http://www.catholicculture.org/culture/liturgicalyear/calendar/day.cfm?date=2012-12-17