(92-101)

Feastday: 23 November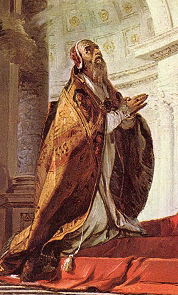 St. Clement I of Rome was one of the first popes; according to St. Ireneus, he was the third after Peter. Clement most probably died as a martyr. Otherwise little is known of his life. It is not certain whether he is the one Paul mentions as his companion in Phil. 4:3. St. Clement's letter to the Corinthians is authentic; in it he authoritatively intervenes in that strife-torn community, a memorable act in the early history of the papacy.
The breviary gives these legendary details. Because of his zeal for souls, Pope Clement was banished to distant Chersonese; there he found two-thousand Christians who had received a similar sentence. When he came to these exiles, he comforted them. "They all cried with one voice: Pray for us, blessed Clement, that we may become worthy of the promises of Christ. He replied: Without any merit of my own, the Lord sent me to you to share in your crowns." When they complained because they had to carry the water six miles, he encouraged them, "Let us all pray to the Lord Jesus Christ that He may open to His witnesses a fountain of water." "While blessed Clement was praying, the Lamb of God appeared to him; and at His feet a bubbling fountain of fresh water was flowing." Seeing the miracle, "All the pagans of the neighborhood began to believe."
When Trajan heard of these marvels, he ordered Clement to be drowned with an iron anchor about his neck. "While he was making his way to the sea, the people cried with a loud voice: Lord Jesus Christ, save him! But Clement prayed in tears: Father, receive my spirit." At the shore the Christians asked God to give them the body. The sea receded for three miles and there they found the body of the saint in a stone coffin within a small marble chapel; alongside lay the anchor. "You have given a dwelling to Your martyr Clement in the sea, O Lord, a temple of marble built by the hands of angels." The body was taken to Rome under Nicholas 1 (858-867) by Sts. Cyril and Methodius and placed in a church dedicated to his honor (S. Clemente). This is one of the most venerable of the churches in Rome because it retains all the liturgical arrangements of ancient times.
Excerpted from
The Church's Year of Grace
, Pius Parsch.
http://www.catholicculture.org/culture/liturgicalyear/calendar/day.cfm?date=2012-11-23