Feastday: September 24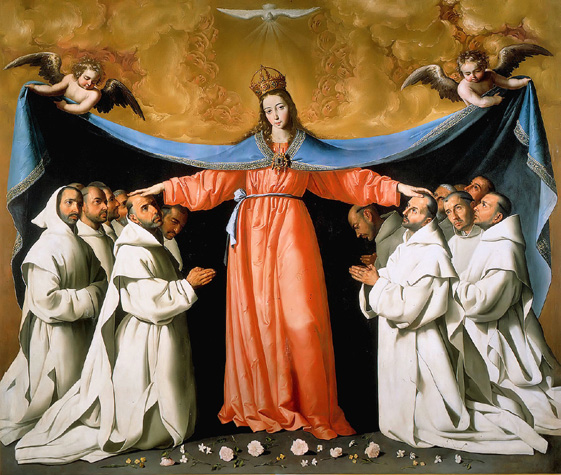 This is my prayer to you, my prayer for your favor.
In your great love, answer me, O God, with your
help that never fails: rescue me from sinking in
the mud; save me from my foes.



The Blessed Virgin appeared in 1218 in separate visions to St. Peter Nolasco, St. Raymond of Penafort and James, king of Aragon, asking them to found a religious order dedicated to freeing Christian captives from the barbarous Saracens or Moors, who at the time held a great part of Spain.
In 1198 St. John of Matha and St. Felix of Valois founded the Trinitarians. From then until 1787 they redeemed 900,000 captives. The Order of Our Lady of Ransom, called the Mercedarians, and founded by St. Peter Nolasco, ransomed 490,736 slaves between the years 1218 and 1632. St. Vincent de Paul, a slave himself, led his priests to save 1200 Christian captives in the short period between 1642 and 1660 at the staggering cost of 1,200,000 pounds of silver. An even greater achievement was the conversion of thousands in captivity, and steeling them against the sufferings of a cruel martyrdom for the faith.
On August 10, 1218, King James established the royal, military and religious Order of our Lady of Ransom (first known as the Order of St. Eulalia, now known as the Mercedarian Order), with the members granted the privilege of wearing his own arms on their breast. Most of the members were knights, and while the clerics recited the divine office in the commanderies, they guarded the coasts and delivered prisoners. This pious work spread everywhere and produced heroes of charity who collected alms for the ransom of Christians, and often gave themselves up in exchange for Christian prisoners.
This feast, kept only by the Order, was extended to the whole Church by Innocent XII in the 17th century.
http://www.catholicculture.org/culture/liturgicalyear/calendar/day.cfm?date=2012-09-24