Feastday: September 29
St. Michael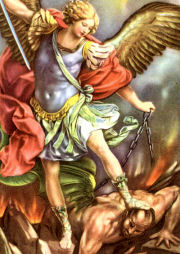 The name of the archangel Michael means, in Hebrew
who is like unto God
and he is also known as "the prince of the heavenly host." He is usually pictured as a strong warrior, dressed in armor and wearing sandals. His name appears in Scripture four times, twice in the Book of Daniel, and once each in the Epistle of St. Jude and the Book of Revelation. From Revelation we learn of the battle in heaven, with St. Michael and his angels combatting Lucifer and the other fallen angels (or devils). We invoke St. Michael to help us in our fight against Satan; to rescue souls from Satan, especially at the hour of death; to be the champion of the Jews in the Old Testament and now Christians; and to bring souls to judgment.
This day is referred to as "Michaelmas" in many countries and is also one of the harvest feast days. In England this is one of the "quarter days", which was marked by hiring servants, electing magistrates, and beginning of legal and university terms. This day also marks the opening of the deer and other large game hunting season. In some parts of Europe, especially Germany, Denmark, and Austria, a special wine called "Saint Michael's Love" (Michelsminne) is drunk on this day. The foods for this day vary depending on nationality. In the British Isles, for example, goose was the traditional meal for Michaelmas, eaten for prosperity, France has waffles or
Gaufres
and the traditional fare in Scotland used to be St. Michael's Bannock (
Struan Micheil
) ­ a large, scone-like cake. In Italy, gnocchi is the traditional fare.
St. Gabriel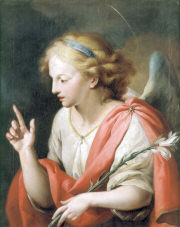 St. Gabriel's name means "God is my strength". Biblically he appears three times as a messenger. He had been sent to Daniel to explain a vision concerning the Messiah. He appeared to Zachary when he was offering incense in the Temple, to foretell the birth of his son, St. John the Baptist. St. Gabriel is most known as the angel chosen by God to be the messenger of the Annunciation, to announce to mankind the mystery of the Incarnation.
The angel's salutation to our Lady, so simple and yet so full of meaning,
Hail Mary, full of grace
, has become the constant and familiar prayer of all Christian people.
St. Raphael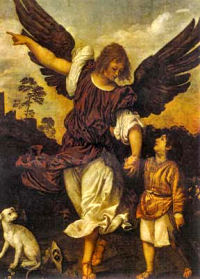 Our knowledge of the Archangel Raphael comes to us from the book of Tobit. His mission as wonderful healer and fellow traveller with the youthful Tobias has caused him to be invoked for journeys and at critical moments in life. Tradition also holds that Raphael is the angel that stirred the waters at the healing sheep pool in Bethesda. His name means "God has healed".
http://www.catholicculture.org/culture/liturgicalyear/calendar/day.cfm?date=2012-09-29