Ancient, underground Etruscan pyramids spotted in Italy
By Rossella Lorenzi
Published September 18, 2012
Discovery News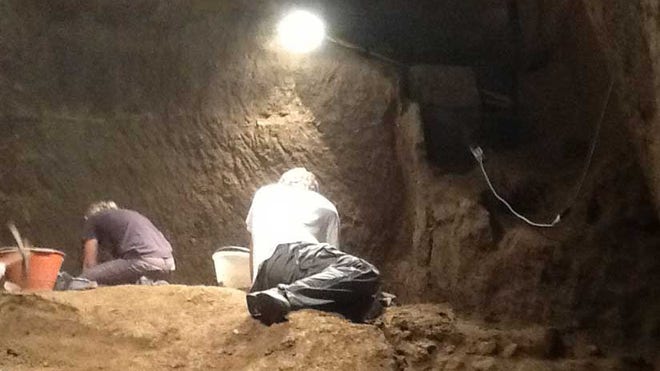 The subterranean pyramids found in Orvieto, Italy could offer a unique insight into the mysterious Etruscan culture. Stairs carved into the wall can be seen at left. (David George)
The first ever Etruscan pyramids have been located underneath a wine cellar in the city of Orvieto in central Italy, according to a team of U.S. and Italian archaeologists.
Carved into the rock of the tufa plateau -- a sedimentary area that is a result of volcanic activity -- on which the city stands, the subterranean structures were largely filled. Only the top-most modern layer was visible.
"Within this upper section, which had been modified in modern times and was used as a wine cellar, we noticed a series of ancient stairs carved into the wall. They were clearly of Etruscan construction," David B. George of the Department of Classics at Saint Anselm, told Discovery News. (...)
Indeed, the Etruscans have long been considered one of antiquity's greatest enigmas.
A fun-loving and eclectic people who among other things taught the French how to make wine, the Romans how to build roads, and introduced the art of writing to Europe, the Etruscans began to flourish in Etruria (an area in central Italy area that covered now are Tuscany, Latium, Emilia-Romagna and Umbria) around 900 B.C., and then dominated much of the country for five centuries.
Known for their art, agriculture, fine metalworking and commerce, they started to decline during the fifth century B.C., as the Romans grew in power. By 300-100 B.C., they eventually became absorbed into the Roman empire.
Their puzzling, non-Indo-European language was virtually extinguished and they left no literature to document their society. Indeed, much of what we know about them comes from their cemeteries: only the richly decorated tombs they left behind have provided clues to fully reconstruct their history. (...)
Read more:
http://www.foxnews.com/science/2012/09/18/first-etruscan-pyramids-spotted-in-italy/?intcmp=trending#ixzz26rBDKhKd