(1900-1947)

Feast day: March 23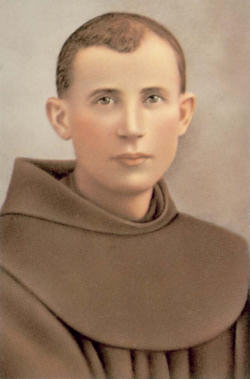 Born in Santa Lucia del Piave near Venice, Claudio was the youngest of nine children and was accustomed to hard work in the fields. At the age of nine he lost his father. Six years later he was drafted into the Italian army, where he served more than three years.
His artistic abilities, especially in sculpture, led to studies at Venice's Academy of Fine Arts, which awarded him a diploma with the highest marks in 1929. Even then he was especially interested in religious art. When Claudio entered the Friars Minor four years later, his parish priest wrote, "The Order is receiving not only an artist but a saint." Prayer, charity to the poor and artistic work characterized his life, which was cut short by a brain tumor. He died on the feast of the Assumption and was beatified in 1994.
Quote:
In the beatification homily, Pope John Paul II said that Claudio made his sculpture "the privileged instrument" of his apostolate and evangelization. "His holiness was especially radiant in his acceptance of suffering and death in union with Christ's Cross. Thus by consecrating himself totally to the Lord's love, he became a model for religious, for artists in their search for God's beauty and for the sick in his loving devotion to the Crucified" (
L'Osservatore Romano,
Vol. 47, No. 1, 1994).
http://www.americancatholic.org/Features/Saints/saint.aspx?id=1130
The face of this small girl belongs to one of the two children seen on the right in the sculpture by Blessed Claudio.
The trio represents Saint Bernadette in exctasy, with two other child saints on each side. The younger girl is a statue of Saint Lucy, martyr, for the native church of Claudio, dedicated of course to Santa Lucia in the village of Santa Lucia del Piave.