(ca. 520–586)

Feast Day: August 13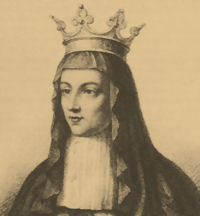 St. Radegund was a 6th century Frankish princess, who founded the monastery of the Holy Cross at Poitiers. Canonized in the 9th century, she is the patron saint of several English churches and of Jesus College, Cambridge.
St. Radegund's father was a king; when he was conquered by King Theodoric of Austrasia and King Clotaire I of Neustria, Radegund was taken captive at the age of twelve by Clotaire, son of Clovis, the first Christian King of the Franks. She lived at Athies until she was 18, when Clotaire brought her to Vitry and married her. Clotaire was "a man of shocking character." As queen, Radegund spent her time doing charitable work with the poor and the captives. She ministered to lepers and founded a hospital for them. Radegund had been married to Clotaire for six years when he killed her brother. Unable to bear his cruelties any longer, she became a nun, with his permission. Radegund had a double monastery built in Poitiers called Holy Cross. When Clotaire decided to bring her back to court, St. Germanus interceded on her behalf, and the repentant Clotaire sent Germanus back to Radeund to ask her forgiveness and prayers. After her death, Radegund's face shone "with a brightness surpassing the beauty of lilies and roses."
­Excerpted from
2009 Saints Calendar
http://www.catholicculture.org/culture/liturgicalyear/calendar/day.cfm?date=2012-08-13
http://en.wikipedia.org/wiki/Radegund