(972-1024)

Feast Day: July 13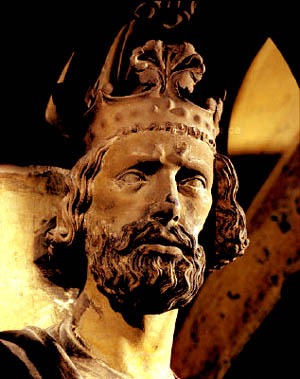 As German king and Holy Roman Emperor, Henry was a practical man of affairs. He was energetic in consolidating his rule. He crushed rebellions and feuds. On all sides he had to deal with drawn-out disputes so as to protect his frontiers. This involved him in a number of battles, especially in the south in Italy; he also helped Pope Benedict VIII quell disturbances in Rome. Always his ultimate purpose was to establish a stable peace in Europe.
As emperor, he devoted himself earnestly to spreading religion, and rebuilt with great magnificence the churches which had been destroyed by the infidels, endowing them generously both with money and lands. He built monasteries and other pious establishments, and increased the income of others; the bishopric of Bamberg, which he had founded out of his family possessions, he made tributary to St. Peter and the Roman Pontiff. When Benedict VIII, who had crowned him emperor, was obliged to seek safety in flight, Henry received him and restored him to his see.
According to eleventh-century custom, Henry took advantage of his position and appointed as bishops men loyal to him. In his case, however, he avoided the pitfalls of this practice and actually fostered the reform of ecclesiastical and monastic life.
Quote:
"We deem it opportune to remind our children of their duty to take an active part in public life and to contribute toward the attainment of the common good of the entire human family as well as to that of their own political community. They should endeavor, therefore, in the light of their Christian faith and led by love, to insure that the various institutions—whether economic, social, cultural or political in purpose—should be such as not to create obstacles, but rather to facilitate or render less arduous man's perfecting of himself in both the natural order and the supernatural.... Every believer in this world of ours must be a spark of light, a center of love, a vivifying leaven amidst his fellow men. And he will be this all the more perfectly, the more closely he lives in communion with God in the intimacy of his own soul" (Blessed Pope John XXIII, Peace on Earth, 146, 164).
http://www.americancatholic.org/Features/SaintofDay/default.aspx
http://www.catholicculture.org/culture/liturgicalyear/calendar/day.cfm?date=2012-07-13