(1303-1373)

Feast Day: July 23
From age seven on, Bridget had visions of Christ crucified. Her visions formed the basis for her activity—always with the emphasis on charity rather than spiritual favors.
At ten years of age, Bridget heard a sermon on the Passion of our Lord; and the next night she saw Jesus on the cross, covered with fresh blood, and speaking to her about his Passion. Thenceforward meditation on that subject affected her to such a degree, that she could never think of our Lord's sufferings without tears.
She lived her married life in the court of the Swedish king Magnus II. She devoted herself with maternal love to the education of her children. She was most zealous in serving the poor, especially the sick; and set apart a house for their reception, where she would often wash and kiss their feet. Mother of eight children (the second eldest was St. Catherine of Sweden), she lived the strict life of a penitent after her husband's death.
Bridget constantly strove to exert her good influence over Magnus; while never fully reforming, he did give her land and buildings to found a monastery for men and women. This group eventually expanded into an Order known as the Bridgetines (still in existence).
In 1350, a year of jubilee, Bridget braved a plague-stricken Europe to make a pilgrimage to Rome. Although she never returned to Sweden, her years in Rome were far from happy, being hounded by debts and by opposition to her work against Church abuses.
A final pilgrimage to the Holy Land, marred by shipwreck and the death of her son, Charles, eventually led to her death in 1373. In 1999, she, Saints Catherine of Siena and Edith Stein were named co-patronesses of Europe.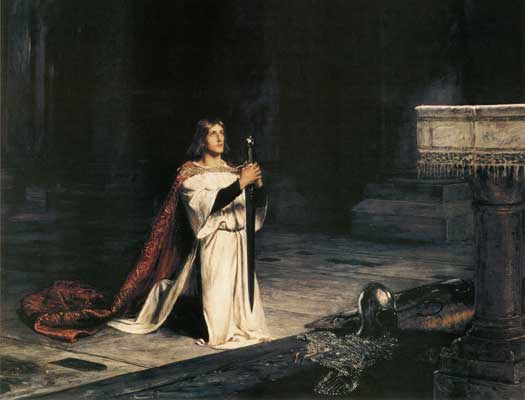 The Vigil of a knight.
St Bridget had visions from our Lord extolling Christian chivalry and the virtue of Knighthood
Comment:
Bridget's visions, rather than isolating her from the affairs of the world, involved her in many contemporary issues, whether they be royal policy or the years that the legitimate Bishop of Rome lived in Avignon, France. She saw no contradiction between mystical experience and secular activity, and her life is a testimony to the possibility of a holy life in the marketplace.
http://www.americancatholic.org/Features/SaintofDay/default.aspx

http://www.catholicculture.org/culture/liturgicalyear/calendar/day.cfm?date=2012-07-23