(2nd c.)

Feast Day: May 19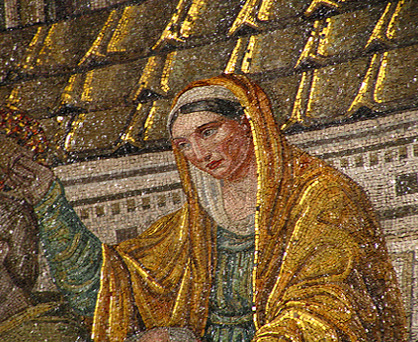 Pudentiana is a traditional Christian saint of the 2nd century. She is sometimes called Potentiana.
According to an ancient tradition, St. Peter was the guest of the senator Pudens during his stay in Rome. Pudens had two daughters, Pudentiana and Praxedes, virgins who dedicated themselves wholly to acts of charity. After the death of their parents, Pudentiana and her sister Praxedes distributed their patrimony to the poor. The fact that Puden's entire household of some 96 persons were baptized by Pope Pius I (d. 154) is ascribed to their zealous activities. When Christian services were forbidden by the Emperor Antoninus Pius, Pius I celebrated Mass in their home. The saints were buried next to their father in the catacomb of St. Priscilla. One of Rome's most ancient stational churches is dedicated to St. Pudentiana.
— Excerpted from The Church's Year of Grace, Pius Parsch.
Prayer:
Like the dove of Noe's Ark, that found not where to rest her feet on the guilty earth, thou tookest thy flight, O Pudentiana, and restedst in the bosom of Jesus, thy Spouse. Thus will it be at the end of the world, when the souls of the Elect shall have been reunited to their bodies: they will fly, like eagles to their King, and will cluster around him, as the object of all their desires (St. Matth. xxiv. 28). They will flee from this sinful earth, as thou didst from the abominations of Pagan-Rome, that was drunk with the blood of the Martyrs (Apoc. xvii. 6). We celebrate thy departure, dear youthful Saint, with a feeling of hope for our own future deliverance; we honour thy reaching thy Jesus, and we long to be there, together with thee. Oh! get us detachment from all transitory things, intenser love of the New Life which came to us with Easter, and indifference as to what concerns that other lower life, which is not that of our Risen Lord. Thou wast a daughter of the holy Church of Rome; pray, then, for thy mother. She is suffering now, in the days of Pius the Ninth, as she did during the pontificate of Pius the First. After having reigned over Christian nations for centuries, she is now abandoned and disowned by the very people that owe all they have to her, and yet are now turning her own blessings against her. Use thine influence, O Pudentiana! assist and protect thine and our dearest mother.
http://www.catholicculture.org/culture/liturgicalyear/calendar/day.cfm?date=2012-05-19
http://catholicharboroffaithandmorals.com/St.%20Celestine%20and%20Pudentiana.html