(956-97)
Feastday: April 22
Opposition to the Good News of Jesus did not discourage Adalbert, who is now remembered with great honor in the Czech Republic, Poland, Hungary and Germany.
Born to a noble family in Bohemia, he received part of his education from St. Adalbert of Magdeburg. At the age of 27 he was chosen as bishop of Prague. Those who resisted his program of clerical reform forced him into exile eight years later.
In time, the people of Prague requested his return as their bishop. Within a short time, however, he was exiled again after excommunicating those who violated the right of sanctuary by dragging a woman accused of adultery from a church and murdering her.
After a short ministry in Hungary, he went to preach the Good News to people living near the Baltic Sea.
Adalbert went to Boleslaus, his friend, son of the Duke of Poland. In this country he again converted many idolaters. On a missionary trip to Prussia he converted some of the inhabitants of Danzig. It was there that he met his death when a group of pagans attacked him. When he received the first blow, he thanked God for giving him the opportunity to suffer for Him. Then the pagan priest leading the idolaters pierced his body with a two-headed lance, saying: "Be joyous, then, since you want nothing more than to suffer with your Christ."
Adalbert's body was immediately ransomed and buried in Gniezno cathedral (Poland). In the mid-11th century his relics were moved to St. Vitus Cathedral in Prague.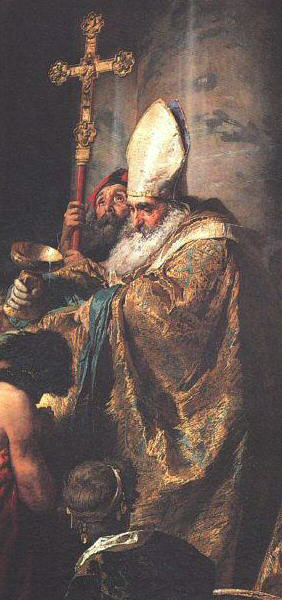 St. Adalbert baptized pagans of Hungary, Poland
and Prussia, but the inhabitants of Prague rejected
his efforts to convert them
Comment:
Preaching the Good News can be dangerous work whether the audience is already baptized or not. Adalbert fearlessly preached Jesus' gospel and received a martyr's crown for his efforts. Similar zeal has created modern martyrs in many places, especially in Central and South America. Some of those martyrs grew up in areas once evangelized by Adalbert.
Quote:
"God our Father, you have honored the Church with the victorious witness of St. Adalbert, who died for his faith. As he imitated the suffering and death of the Lord, may we follow in his footsteps and come to eternal joy"
(adapted from the Common of a Martyr in the Easter season).
http://www.americancatholic.org/Features/SaintofDay/default.aspx
http://www.traditioninaction.org/SOD/j069sdAldalbert4-23.htm