Lent: April 6th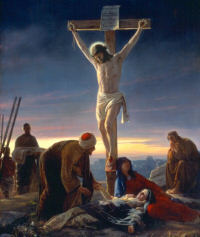 "It is accomplished; and bowing
his head he gave up his spirit."
Remember your mercies, O Lord, and with your eternal protection sanctify your servants for whom Christ your Son, by the shedding of his Blood, established the Paschal Mystery. Who lives and reigns for ever and ever. Amen
Today the whole Church mourns the death of our Savior. This is traditionally a day of sadness, spent in fasting and prayer. The title for this day varies in different parts of the world: "Holy Friday" for Latin nations, Slavs and Hungarians call it "Great Friday," in Germany it is "Friday of Mourning," and in Norway, it is "Long Friday." Some view the term "Good Friday" (used in English and Dutch) as a corruption of the term "God's Friday." This is another obligatory day of fasting and abstinence. In Ireland, they practice the "black fast," which is to consume nothing but black tea and water.
Liturgy
According to the Church's ancient tradition, the sacraments are not celebrated on Good Friday nor Holy Saturday. "Celebration of the Lord's Passion," traditionally known as the "Mass of the Presanctified," (although it is not a mass) is usually celebrated around three o'clock in the afternoon, or later, depending on the needs of the parish.
Activities
This is a day of mourning. We should try to take time off from work and school to participate in the devotions and liturgy of the day as much as possible. In addition, we should refrain from extraneous conversation. Some families leave the curtains drawn, and maintain silence during the 3 hours (noon — 3p.m.), and keep from loud conversation or activities throughout the remainder of the day. We should also restrict ourselves from any TV, music or computer—these are all types of technology that can distract us from the spirit of the day.
If some members of the family cannot attend all the services, a little home altar can be set up, by draping a black or purple cloth over a small table or dresser and placing a crucifix and candles on it. The family then can gather during the three hours, praying different devotions like the rosary, Stations of the Cross, the Divine Mercy devotions, and meditative reading and prayers on the passion of Christ.
Although throughout Lent we have tried to mortify ourselves, it is appropriate to try some practicing extra mortifications today. These can be very simple, such as eating less at the small meals of fasting, or eating standing up. Some people just eat bread and soup, or just bread and water while standing at the table.
http://www.catholicculture.org/culture/liturgicalyear/calendar/day.cfm