(1544-1607)
Feastday: April 15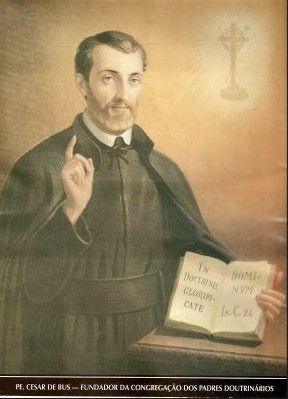 Cesar was born at Cavaillon, France, and little is known about his early life, with the exception that he lived both piously and virtuously. At eighteen years old, he joined the French army, and took part in the king's war against the Huguenots. Having successfully survived the war, he left the army and spent his days in pursuit of the arts, writing poetry and painting. He soon missed the call and order of military life, however, and endeavored to join a naval fleet which was enacting a siege. However, he was deemed to ill to participate, and instead traveled to Paris.
In Paris, Cesar turned briefly from his pious and virtuous ways, living a life driven by pleasure and worldly ambition. For three years, he indulged his sinful desires until the death of his brother, a canon of Salon. Upon his brother's death, Cesar managed to obtain his vacated position, which initially he desired only out of worldly ambition. However, once obtaining it, the spirit of the Lord moved within him, and he returned to his studies, resumed his pious lifestyle, and was soon ordained to the priesthood at the age of 38.
Upon ordination, Cesar immediately distinguished himself by his works of charity, serving all in need. He further demonstrated great effectiveness and zeal in preaching and catechizing. He focused primarily on those who would receive the Word of God from no one else—those living in horrible conditions, living out of city in the countryside, and those marginalized by society. He further focused on catechesis of the family, instructing the parents alongside the children, something which had previously not been done. He was so successful that he attracted many followers, and decided to institute a congregation of priests who would be dedicated solely to the preaching of Christian Doctrine. Not long thereafter, the "Prêtres séculiers de la doctrine chrétienne" (Secular Priests of the Christian Doctrine), or "Doctrinaires", was founded. Located in Avignon, the congregation was approved by Pope Clement VIII. A few years later, Cesar founded a companion congregation, the Daughters of the Christian Doctrine.
Blessed Cesar wrote five volumes on the Catechism, portions of which continue in use today. His Instructions for the Family on the Four Parts of the Roman Catechism, was published 60 years after his death.
He was beatified in 1975.
http://365rosaries.blogspot.ca/2011/04/april-15-blessed-cesar-de-bus.html