Feastday: March 6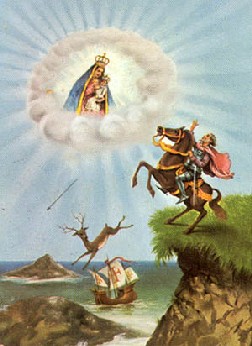 The chronicles of the old Portugal report this episode that took place in the year 1182, on the day of the exaltation of the Holy Cross. Dom Fuas Roupinho, a knight and vassal of King Afonso Henriques, was out hunting on a foggy day. He was pursuing a deer when it came to an unexpected precipice and fell to its death into the sea below.
The horse, which was in close pursuit, reared on the very edge of the cliff, and it seemed certain that Dom Fuas would follow the deer to his death. Knowing that a little distance to his left was a cave with the statue of the Virgin of Nazareth, Dom Fuas immediately invoked her protection. He was saved, and in thanksgiving he built a small "chapel of memory" (Ermida da Memória) over the cave in her honor.
According to a document found with it, the little statue of the Virgin had been venerated in Nazareth in the times of early Christianity. When the iconoclast heresy started in Constantinople and the heretics were destroying all the statues, a monk called Ciriaco took it to a monastery in Spain in the proximity of Merida.
In 714, when the Saracens invaded the Iberian Peninsula, King Rodrigo fled with Friar Germano to the Atlantic coast, bearing the statue with them. They hid the statue in a small cave off the coast of the site that was later to become Nazaré, where it remained until it was found by a shepherd in 1179.
After Our Lady miraculously saved the life of Dom Fuas, the devotion to Our Lady of Nazareth spread broadly through the country and was the source of countless graces for the people. In 1377 King Fernando ordered a Church to be built near the little chapel, and the statue is venerated there now.
http://www.traditioninaction.org/SOD/j118sdOLNazare_3-06.htm