Maria Isabel Gomes de Melo one month after her recovery
at age 3 (left) and today at age 15 (right).
Rome, Italy, Mar 1, 2012 / 01:05 pm (CNA).- On Oct. 21, the Church will celebrate the canonization of Sister Carmen Salles y Barangueras, whose cause for sainthood was approved after her intercession caused the miraculous cure of a 3-year-old Brazilian girl suffering from a brain condition.
The miracle occurred in Sao Paolo in 1999 when 3 year-old Maria Isabel Gomes de Melo Gardelli was suffering from acute cerebral ischaemia, which left her with paralysis and facial deformities.
With no hope of recovery, her treatments were stopped and her parents, themselves doctors, brought her home to care for her until her eventual passing. Together with Maria Isabel's classmates at Maria Inmaculada School in Sao Paolo, the family began a novena to Sister Carmen Salles for a miraculous cure.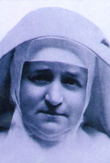 Maria del Carmen
Salles y Barangueras
(Carmen of Jesus)
The postulator for Sister Carmen's cause for canonization, Mother Maria Asuncion Valls Salip, told CNA it was "on the fifth day of the novena that she was cured…the prayers of children are very powerful."
Doctors were skeptical that she was completely cured. Even if she received years of therapy and treatment, they said, she would be at serious risk of epilepsy and other secondary illnesses.
Since the time of her healing, Maria Isabel has undergone 27 different medical examinations "and absolutely no long-term effects remain," Mother Valls said. Now at age 15, she has even been offered careers in modeling.
Mother Valls said she is also a "brilliant student" with "a great ability to comprehend."
"There is no doubt this is a miracle," she added.
A recent CAT scan shows scars from her condition remain visible on her brain, which Mother Valls said demonstrate the miraculous nature of her recovery.
Born in the Spanish region of Catalonia in 1848, Carmen Salles founded the Missionary Conceptionists of Hope, a religious order dedicated to helping women through education and formation. She was a pioneer in proclaiming equality between men and women and in defending the dignity of women in the home and in society at large.
She was beatified by Pope John Paul II on March 15, 1998, and her canonization is set for October 21, 2012.
http://www.catholicnewsagency.com/news/future-spanish-saints-intercession-cured-3-year-old/