Feastday: February 15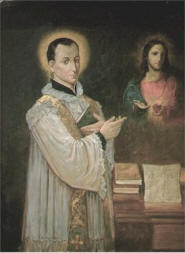 This is a special day for the Jesuits, who claim today's saint as one of their own. It's also a special day for people who have a special devotion to the Sacred Heart of Jesus—a devotion Claude la Colombière promoted, along with his friend and spiritual companion, St. Margaret Mary Alacoque. The emphasis on God's love for all was an antidote to the rigorous moralism of the Jansenists, who were popular at the time.
Claude showed remarkable preaching skills long before his ordination in 1675. Two months later he was made superior of a small Jesuit residence in Burgundy. It was there he first encountered Margaret Mary Alacoque. For many years after he served as her confessor.
He was next sent to England to serve as confessor to the Duchess of York. He preached by both words and by the example of his holy life, converting a number of Protestants. In 1678, a false rumor spread about an alleged Catholic "plot" against the English monarchy. The lie led to the execution of 35 innocent people, including eight Jesuits. La Colombière was not put to death, but was accused, arrested, and locked in a dungeon for several weeks. The French Jesuit held up heroically during the ordeal, but conditions in the prison ruined his health before his expulsion from England.
He went back to France in 1679 and resumed his work as a teacher and priest, encouraging love for Christ's Sacred Heart among the faithful. In 1681, Claude la Colombière returned to Paray-le-Monial, the site of St. Margaret Mary Alacoque's revelations. It was there, during 1682, that the 41-year-old priest died from internal bleeding on the year's first Sunday of Lent, Feb. 15.
Pope John Paul II canonized Claude la Colombière in 1992.
http://www.americancatholic.org/Features/Saints/saint.aspx?id=1889
http://www.catholicnewsagency.com/news/st.-claude-la-colombiere-sacred-heart-devotee-remembered-feb.-15